CDC seeks public comment on MSDs in overhead assembly study
Posted November 19, 2015
On November 17, the Centers for Disease Control and Prevention (CDC) submitted the proposed information collection request (ICR) regarding the musculoskeletal disorders in overhead assembly study to the Office of Management and Budget for review and approval.
The study will evaluate the two intervention strategies for reducing musculoskeletal symptoms and pain in the shoulder attributable to overhead assembly work in automotive manufacturing:
An articulating spring-tensioned tool support device that unloads from the worker the weight of the tool that would otherwise be manually supported, and
A targeted exercise program intended to increase individual employees' strength and endurance in the shoulder and upper arm stabilizing muscle group.
The manufacturing sector has faced a number of challenges including an overall decline in jobs, an aging workforce, and changes in organizational management systems. Studies have indicated that the average age of industrial workers is increasing and that older workers may differ from younger workers in work capacity, injury risk, severity of injuries, and speed of recovery. As the average age of the industrial population increases and newer systems of work organization (such as lean manufacturing) are changing the nature of labor-intensive work, prevention of MSDs will be more critical to protecting older workers and maintaining productivity.
MSDs represent a major proportion of injury/illness incidence and cost in the U.S. manufacturing sector. In 2008, 29 percent of non-fatal injuries and illnesses involving days away from work involved MSDs. The rate for the motor vehicle manufacturing sub-sector was among the highest.
In automotive manufacturing overhead conveyance of the vehicle chassis requires assembly line employees to use tools in working postures with the arms elevated. These postures are believed to be associated with symptoms of upper limb discomfort, fatigue, and impingement syndromes. Overhead working posture, independent of the force or load exerted with the hands, may play a role in the development in these conditions. Recent studies suggest a more significant role of localized shoulder muscle fatigue in contributing to these disorders. Fatigue of the shoulder muscles may result in changes in normal shoulder motion that affect risk for shoulder impingement disorders.
The agency encourages comments from the public and affected agencies. To view the full proposal and instructions on how to submit comments click here. Written comments should be received within 30 days of the notice publication.
---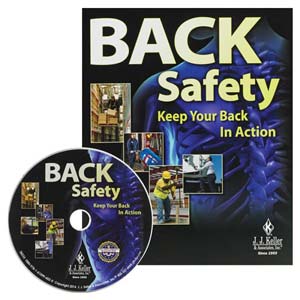 J. J. Keller's Back Safety: Keep Your Back In Action - DVD Training helps employees understand the basic principles of back health and the most common prevention practices to avoiding a back injury.
---
J. J. Keller's FREE Workplace SafetyClicks™ email newsletter brings quick-read workplace safety and compliance news right to your email box.