ATRI research quantifies impact of non-preventable crashes on CSA scores
Posted November 13, 2015
On November 10, The American Transportation Research Institute (ATRI) released its latest Compliance, Safety, Accountability (CSA) research, Assessing the Impact of Non-Preventable Crashes on CSA Scores. In the analysis, ATRI investigated the impact that excluding non-preventable crashes would have on motor carrier CSA Crash Indicator Behavior Analysis and Safety Improvement Category (BASIC) measures.
The analysis used carrier crash records, mapped to the Federal Motor Carrier Safety Administration's (FMCSA's) Motor Carrier Management Information System (MCMIS) database, to identify a small and non-controversial subset of non-preventable crashes with the following causes:
Animal collision,
Other vehicle hits legally parked truck,
Other vehicle ran a stop light/sign and hit a truck,
The driver of the other vehicle was driving under the influence (DUI), and
Truck-assisted suicide.
The ATRI analysis then removed these crashes and "recalculated" the Crash Indicator BASIC measure. Among the more than one dozen carriers in ATRI's analysis, the Crash Indicator BASIC decreased nearly 15 percent once the non-preventable crash subset was removed.
According to ATRI, Beyond CSA BASIC score impacts, these non-preventable crashes exact a toll on motor carriers and commercial drivers. ATRI's analysis documents these impacts in detail, including real-world crash examples collected from the industry. ATRI also estimates non-preventable crash costs that exceed $68 million for the 15 carriers in the analysis.
---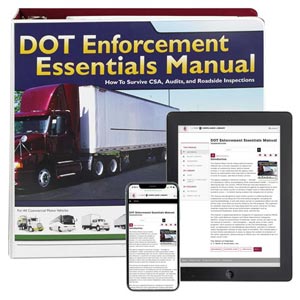 J. J. Keller's DOT Enforcement Essentials Manual is a tool that helps proactively enforce in-house and roadside compliance and prepare for FMCSA audits.
---
J. J. Keller's FREE Transportation SafetyClicks™ email newsletter brings quick-read safety and compliance news right to your email box.
Sign up to receive Transportation SafetyClicks™.