Screening program doesn't violate drivers' rights, court rules
Posted October 26, 2016
A federal appeals court has ruled that the government's Pre-employment Screening Program (PSP) does not violate drivers' privacy rights when it releases information about their safety violations to prospective employers.
Six commercial drivers filed a class-action lawsuit in July 2014 challenging the PSP program on grounds that it unlawfully disseminates information about non-serious violations.
A Massachusetts district court granted a motion to dismiss the lawsuit, and now the U.S. Court of Appeals for the First Circuit has upheld that decision.
The PSP system contains accident and roadside violation history for commercial motor vehicle drivers. For a fee, and after obtaining the driver's written consent, prospective employers are allowed — but not required — to obtain a driver's PSP report during the hiring process. The reports are available on the FMCSA website.
The legal challenge argued that Congress only authorized the Federal Motor Carrier Safety Administration (FMCSA) to report information about crashes and "serious driver-related violations" through the PSP.
The drivers argued that the only "serious" violations are those that result in a driver being placed out of service, not other violations like speeding.
The district court disagreed, ruling that the FMCSA interpreted Congress' wishes appropriately when it developed the PSP program. The appeals court upheld that decision, writing that "the agency's interpretation is a reasonable and permissible construction of the statute" and is in line with the FMCSA's mission to improve highway safety.
"Given that the focus of the database is on the motor carrier industry, by providing information on driver safety records to potential employers, it is hard to see how this goal would be undermined by the disclosure of more information," the court wrote.
The court also rejected the drivers' argument that the PSP consent forms are coercive, since use of the PSP is optional.
This article was written by Daren Hansen of J. J. Keller & Associates, Inc.
---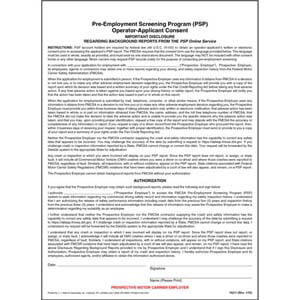 J. J. Keller's Pre-Employment Screening Program (PSP) Operator-Applicant Consent Form helps you meet the requirements of 49 U.S.C. 31150.
---
J. J. Keller's FREE Transportation SafetyClicks™ email newsletter brings quick-read safety and compliance news right to your email box.