FMCSA issues technical amendments to the regulations
Posted October 6, 2016
The Federal Motor Carrier Safety Administration (FMCSA) published a final rule on October 4 to make technical amendments to its regulations. The updates are minor changes to correct errors and omissions, conform with the Office of the Federal register style guidelines, update cross references, and improve clarity and consistency of certain regulatory provisions.
The amendments are removing all remaining instances of the term "common carrier" and "contract carrier" in the regulations as required by the ICC Termination Act (ICCTA) and the Safe, Accountable, Flexible, Efficient Transportation Equity Act: A Legacy for Users (SAFETEA-LU). The rule does not make any substantive changes to the affected regulations, except to remove obsolete provisions.
Additional changes include:
New entrant motor carrier safety assurance applications (§385.303). FMCSA is modifying how new entrant motor carriers may contact the Agency for application materials. FMCSA changed the 703 area code fax number to a 202 area code fax number and is adding the option that new entrant motor carriers may locate application materials online at one of two webpages, the precise location is determined by whether the motor carrier received a USDOT number before or after December 12, 2015.
Medical examination and certificate of physical examination (§391.43). The Agency is amending this section by removing reference to the obsolete versions of the medical exam form and certificate of completion that were no longer valid as of April 20, 2016, when Forms MCSA-5875 and MCSA-5876 were the only acceptable formats.
Driver's record of duty status (§395.8). FMCSA states it has received a significant number of questions asking how a motor carrier can determine whether a commercial motor vehicle was manufactured before model year 2000, thus allowing its driver to use paper records of duty status instead of the electronic logging device (ELD) required in most other cases. The agency is amending this section to include an additional qualifying phrase. The model year 2000 will be determined during roadside inspections "as reflected in the vehicle identification number as shown on the vehicle's registration."
These technical amendments are effective September 30, 2016.
---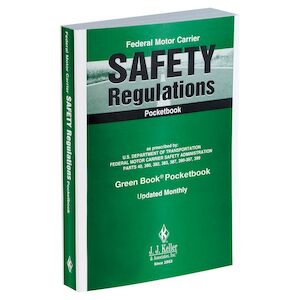 J. J. Keller's Federal Motor Carrier Safety Regulations Pocketbook gives your drivers easy access to word-for-word Federal Motor Carrier Safety Regulations (FMCSRs) in a convenient pocketbook format.
---
J. J. Keller's FREE Transportation SafetyClicks™ email newsletter brings quick-read safety and compliance news right to your email box.