DOL announces paid sick leave for federal contractors final rule
Posted October 3, 2016
The U.S. Department of Labor announced a final rule on September 29 requiring federal contractors to provide paid sick leave to employees who work on or in connection with certain federal contracts.
The rule will allow these workers to use paid leave if they are sick, need to take care of a sick family member, or must see a doctor or take a family member to a medical appointment. Workers may also use paid sick leave for reasons related to domestic violence, sexual assault, or stalking.
The final rule implements Executive Order 13706, signed by President Obama on September 7, 2015. When fully implemented, the final rule:
Provides up to 56 hours of paid sick leave per year to federal contractors.
Allows employers the choice in how to best adapt the paid sick leave requirement to their businesses. For example, employers can choose to allow workers to accrue leave over time, or to frontload leave.
Includes flexibilities related to integration with employers' existing paid time off policies and leave provisions in existing collective bargaining agreements.
Provides benefits packages offered by those federal contractors in line with leading firms, helping ensure they remain competitive in the search for employees.
Permits covered federal contractors' employees, customers, and clients to stay home when they are sick.
The final rule applies to all covered contracts solicited and awarded on or after January 1, 2017.
New posting required
Contractors covered by the rule must notify all employees of the paid sick leave requirements by posting a notice in a prominent and accessible place at the worksite so it may be readily seen by employees.
Contractors that customarily post notices to employees electronically may post the notice on a website, as long as it is displayed prominently on any website maintained by the contractor, both internal and external, that is customarily used for notices to employees about terms and conditions of employment.
---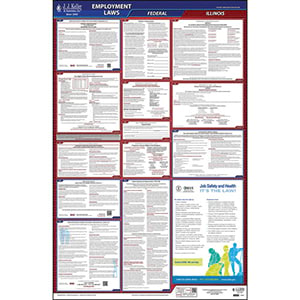 J. J. Keller's State & Federal Employment Law Posters help you meet state and federal labor law posting requirements.
---
J. J. Keller's FREE HRClicks™ email newsletter brings quick-read human resources-related news right to your email inbox.