Woman has 2 fingers amputated while operating mechanical power press for first time
Posted October 1, 2015
OSHA inspectors determined a 33-year-old woman had two fingers amputated as she used a mechanical power press for the first time without proper training or safety guards at a Homerville, Georgia, plastic container manufacturing facility.
Inspected by OSHA 27 times previously at its facilities in seven different states, the manufacturer has received 54 citations for various violations, including operating unguarded machinery and not providing a workplace free of recognized hazards. The most recent OSHA inspection found that the woman, a temporary employee, attempted to install a latch on a metal ammunition box when the amputation occurred. The agency cited the facility for four repeated, fifteen serious, and three other-than-serious safety violations on September 28, 2015.
OSHA also cited the staffing agency that employed the injured worker for three serious and two other-than-serious safety violations. Proposed penalties for both companies total $217,720.
OSHA issued serious citations to the manufacturer and staffing agency for the employers' failure to train the press operator on safe work methods and to guard machinery properly. The manufacturer also received citations for inadequate exit route lighting, exposing workers to falls, not inspecting equipment at required intervals, and improperly storing oxygen and gas cylinders together.
The agency also issued repeated citations to the manufacturer for failing to ensure proper machine guarding and for several electrical deficiencies. OSHA cited the company previously for similar violations in 2011, 2012 and 2014 at other facilities in Georgia, Ohio, New Jersey, and Texas.
The staffing agency has had four agency inspections since 2010 and previously received citations for not reporting a workplace injury and using an unsafe forklift.
The companies have 15 business days from receipt of their citations and proposed penalties to comply, request a conference with OSHA's area director, or contest the findings before the Occupational Safety and Health Review Commission.
For more information see: https://www.osha.gov/pls/oshaweb/owadisp.show_document?p_table=NEWS_RELEASES&p_id=28782.
---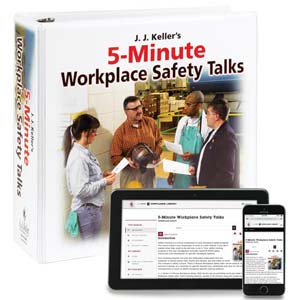 With J. J. Keller's 5-Minute Workplace Safety Talks manual, you get more than 240 different five-minute mini training sessions that fit into your busy schedule and those of your employees.
---
J. J. Keller's FREE Workplace SafetyClicks™ email newsletter brings quick-read workplace safety and compliance news right to your email box.