Illinois company to pay $22,500 settlement in national origin/religious harassment suit
Posted October 26, 2015
A National auto service center will pay $22,500 to a former employee to resolve a national origin and religious harassment lawsuit brought by the U.S. Equal Employment Opportunity Commission (EEOC), the agency announced on October 20.
According to EEOC's suit, an Arab and Muslim mechanic who worked at two of the company's Illinois locations was harassed because of his religion and national origin. Managers and co-workers regularly called the mechanic "Taliban," "al-Qaeda," "bin Laden" and "terrorist" and accused him of making bombs, EEOC alleged. EEOC also claimed that the company was aware of the harassment because managers witnessed some of the offensive comments and the mechanic complained repeatedly to management, but the company did not stop the harassment from recurring.
Harassment based on national origin and religion violates Title VII of the Civil Rights Act of 1964.
In addition to requiring that the company pay monetary relief to the former employee, the two-year consent decree resolving the case prohibits the company from engaging in national origin or religious harassment or retaliation in the future. It also requires that the company provide training to its managers on harassment and how to respond to complaints of harassment, submit periodic reports to the EEOC about complaints of national origin or religious harassment or retaliation, and post a notice at the two facilities regarding the outcome of the lawsuit.
---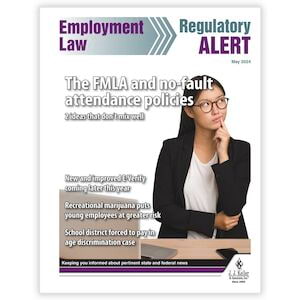 J. J. Keller's Employment Law Today newsletter explains why you need to care, what you need to do and how your business could be affected by HR industry news.
---
J. J. Keller's FREE HRClicks™ email newsletter brings quick-read human resources-related news right to your email inbox.