Forcing involuntary FMLA leave is not always considered interference
Posted October 30, 2015
What are your options when an employee refuses to take Family and Medical Leave Act (FMLA) leave (or even return the FMLA paperwork), but you cannot provide her requested accommodations? At least one court has chimed in on such a situation.
Case in point
Lauri, an employee, indicated to her employer that she had multiple pregnancy-related restrictions, so many that the company HR manager, after reviewing the restrictions, determined that the company could not accommodate Lauri; that she basically could not currently perform her job. Some of the tasks she could no longer perform needed to be done when Lauri was alone at work, which was not uncommon. If she did not do them, she indicated that they simply wouldn't get done.
The company determined that Lauri could not return to work until she no longer had the restrictions. The company HR director indicated that Lauri was eligible for FMLA leave and, despite Lauri's objection, forwarded a leave-of-absence request to the company's leave processor on Lauri's behalf. Lauri was then to provide completed paperwork to process the request.
Lauri did not complete the paperwork and indicated that she objected to being forced to take leave; therefore, she would not fill out the paperwork. In her view, she was not yet ready to go on leave. Lauri was subsequently told that the company could not accommodate her restrictions, and that she could be terminated for job abandonment if she did not return the FMLA paperwork.
Three days after the FMLA-paperwork deadline, Lauri was sent a letter indicating that her FMLA leave was denied, but she could take a personal leave of absence. If she did not, however, complete that packet by a certain date, her employment would be terminated. Lauri did not reply and she was terminated.
Shortly thereafter, she filed suit arguing that the company used FMLA against her unlawfully as it conditioned her employment on having to apply for FMLA leave when she did not need to. She went on to argue that this cost her job and the denial of the opportunity to use FMLA leave when she delivered her child.
While it's true that an employer who forces an employee who does not have a job-restricting serious health condition to take FMLA leave may risk an interference claim, Lauri never requested FMLA leave, so her involuntary leave claim was unripe. Such a claim ripens only when and if the employee actually seeks FMLA leave at a later date (as opposed to simply planning on using the FMLA leave at a later date), and such leave is not available because the employee was wrongfully forced to use FMLA leave in the past. Lauri, however, never exercised her FMLA leave rights, so she lost her legal battle.
Huffman v. Speedway LLC, Sixth Circuit Court of Appeals, Nos. 14-1668/2468, July 1, 2015.
---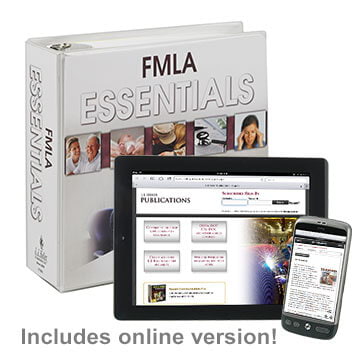 J. J. Keller's FMLA Essentials manual helps HR pros understand and comply with the requirements, control costs related to leave taken and minimize the law's potential disruption to their organizations' operations.
---
J. J. Keller's FREE HRClicks™ email newsletter brings quick-read human resources-related news right to your email inbox.