Report provides techniques to help close skills gap for Latino workers
Posted September 21, 2016
The Society for Human Resource Management (SHRM) and the Congressional Hispanic Caucus Institute (CHCI) on September 14 released a joint report titled The Changing U.S. Workforce: The Growing Hispanic Demographic and the Workplace.
The report, which was released during CHCI's 2016 Public Policy Conference, provides the latest research and insights from experts on the challenges and opportunities presented by the influx of Hispanics into the workforce. The report serves to help ensure that this generation of workers enter the labor market not only career-ready, but also with marketable skills and hands-on experiences that match the needs of the economy.
In the report SHRM and CHCI identify effective practices to help close the skills gap that exists in the Latino workforce. The two organizations urge policy makers, business owners and other decision makers to invest in workforce development and education.
Those effective practices and strategies include:
Developing tools to support and improve educational and career outcomes such as structured pathways from college to certain jobs and mentoring to help address the lack of soft skills.
Facilitating training programs and apprenticeships for entry-level workers to create foundations for success.
Utilizing creative benefits to help recruit and retain Hispanic Millennials.
"Organizations must adopt employment practices that leverage demographic change to the advantage of both employers and employees," said J. Robert Carr, senior vice president at SHRM.
---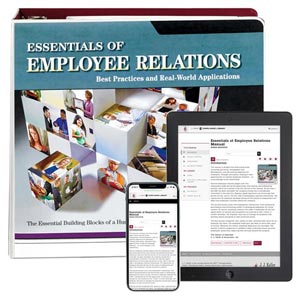 J. J. Keller's Essentials of Employee Relations Manual provides critical HR best practice tips and real-world applications in one convenient resource.
---
J. J. Keller's FREE HRClicks™ email newsletter brings quick-read human resources-related news right to your email inbox.