New EPA strategy looks to ease the pain of retail stores
Posted September 21, 2016
On September 12, 2016, EPA released a new "retail strategy" to address the unique hazards faced by retail stores when it comes to hazardous waste management.
EPA says that regulating the hazardous waste generated by the retail sector under the Resource Conservation and Recovery Act (RCRA) presents challenges that are not found in industrial or manufacturing settings. The retail sector handles a wide variety of consumer products such as nail polish remover, pesticides, paint removers, etc. that can become hazardous wastes when discarded. As a result, retailers must make hazardous waste determinations for a very large number of diverse products that they may have little information on.
In addition, retailers have objected to how the reverse distribution process is regulated. In the reverse distribution process, stores send unused goods to reverse logistics centers where suppliers or vendors determine the ultimate disposition of the products. But when this occurs, it's unclear where and how the RCRA regulations apply. The issue becomes more complicated for retail chain stores that operate over several states, many of which run their own hazardous waste regulatory program.
With these challenges in mind, EPA's retail strategy takes a three pronged approach. The agency will:
Issue agency policy, guidance, and rulemaking to ensure a better fit between RCRA regulations and the retail sector.
Research retail hazardous waste management practices and related issues in the area of reverse distribution, universal waste, and other challenges.
Identify additional approaches to address outstanding RCRA retail sector issues.
EPA says that the goal of the strategy is to ease the burden of managing hazardous waste in the retail setting, while still maintaining important protections to human health and the environment. Next steps outlined in the strategy include:
Issuing the final generator improvements rule in fall 2016.
Working on finalizing the pharmaceuticals rule.
Publishing guidance on recycling aerosol cans.
Proposing a universal waste rule for aerosol cans.
Developing a policy on reverse distribution and RCRA.
Find the retail strategy on the EPA website.
This article was written by Lisa Neuberger of J. J. Keller & Associates, Inc.
---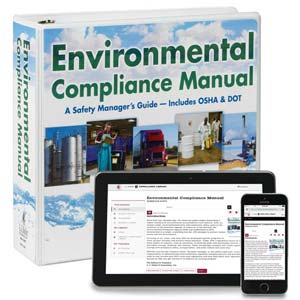 J. J. Keller's Environmental Compliance Manual is packed with easy-to-understand information on regulations, environmental issues, and compliance.
---
J. J. Keller's FREE Workplace SafetyClicks™ email newsletter brings quick-read workplace safety and compliance news right to your email box.