Employers need to start using new I-9 form by January 22
Posted September 19, 2016
The new Form I-9 has not yet been officially released, but the United States Citizenship and Immigration Services (USCIS) announced on September 12 that employers will need to begin using it on or before January 22, 2017.
The agency has indicated that the form should be released by November 22, 2016, and will have an expiration date of August 31, 2019. The new form serves the same purpose as the current form, to verify employment eligibility, and asks for the same information. However, employers should be ready for some enhancements and should know how the old form figures into their I-9 practices.
Q. What changes are to come with the new Form I-9?
A. The proposed new form (available in a pdf) is said to be "smart," as it attempts to prevent employees and employers alike from making errors on the form. The form includes features like the validation of data (ensuring the correct number of digits/type of data has been entered) and on-screen help text to explain the requirements of various fields. Other changes include:
Replacement of the "Other Names Used (if any)" field with "Other Last Names Used (if any)" field.
Drop-down lists in Section 2 (under Lists A, B, and C) including the appropriate acceptable documents and issuing authorities.
Space to record more than one preparer/translator to be recorded.
Space in Section 2 to document additional information that might be required, such as information on an individual's temporary protected status and the employee's E-Verify case number.
A "Citizenship/Immigration Status" field at the top of Section 2.
Employers must keep in mind that, despite the electronic improvements, the proposed I-9 does not meet the Department of Homeland Security's definition of an "electronic form." If finalized as proposed, once completed, the form would still need to be printed, signed by both employer and employee, and stored accordingly.
Q. Must we complete new forms for all employees when the new I-9 is issued?
A. Employers must use the new form for newly hired employees beginning on January 22, 2017 (again, employers may begin using the new form as soon as it is released). They should not automatically complete new I-9s for employees whose forms were completed before use of the new form was required.
Q. How do we handle updates to employees' documentation when the original Form I-9 is an older version?
A. Updates to the Form I-9 should be made on a current version of the Form I-9. If an employee's documentation requires reverification or revision, the employer should use a current form for those updates and attach the new form to the employee's original I-9.
Between the new form's release and January 21, reverifications and revisions may be made on the form that expired on 03/31/2016 or the newly released form. As of January 22, however, employers must use the new form for reverifications and revisions.
This article was written by Katie Loehrke of J. J. Keller & Associates, Inc.
---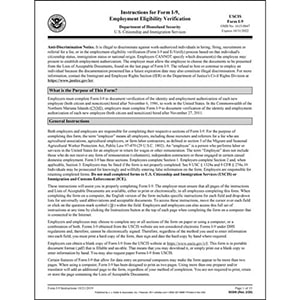 J. J. Keller's Form I-9 Employment Eligibility Verification verifies that an employee is either an American or an alien authorized for work in the U.S.
---
J. J. Keller's FREE HRClicks™ email newsletter brings quick-read human resources-related news right to your email inbox.