EPA finalizes two GHG gas rules for refrigeration and air conditioning systems
Posted September 29, 2016
EPA announced on September 26 that it finalized two rules that will help reduce the projected growth and emissions of hydrofluorocarbons (HFCs), a class of chemicals commonly used in refrigeration and air conditioning that are potent greenhouse gases (GHGs).
Under Section 612 of the Clean Air Act (CAA), EPA's Significant New Alternatives Policy (SNAP) program is:
Adding to the list of safer and more climate-friendly chemicals for use in the refrigeration and air conditioning and fire suppression sectors;
Listing several new substitutes as unacceptable in specific end-uses in the refrigeration and air conditioning sector; and
Changing the status of a number of substitutes that were previously listed as acceptable in the refrigeration and air conditioning and foam blowing sectors. Foam products that contain unacceptable foam blowing agents are also listed as unacceptable.
In each instance where EPA is listing a substitute as unacceptable or changing the status of a substitute from acceptable to unacceptable, EPA has determined that there are other alternatives that pose lower risk overall to human health, the environment, or both.
In the second final action, EPA is strengthening the refrigerant management program under Section 608 of the CAA and extending the regulations to non-ozone depleting substitutes such as HFCs and other substitutes. EPA says this action will lead to reductions in emissions by lowering the leak rate at which large air conditioning and refrigeration appliances must be repaired and incorporating industry best practices such as verifying repairs and conducting regular leak inspections on leaking appliances.
---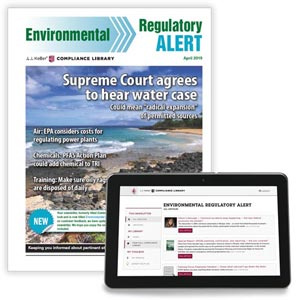 J. J. Keller's Environmental Alert: The Compliance Guide for Safety Professionals helps you stay on top of the latest environmental enforcement issues.
---
J. J. Keller's FREE Workplace SafetyClicks™ email newsletter brings quick-read workplace safety and compliance news right to your email box.