Concrete company settles religious discrimination lawsuit with truck driver
Posted September 20, 2016
A North Carolina concrete company will pay $42,500 and furnish other relief to settle a religious discrimination lawsuit filed by the U.S. Equal Employment Opportunity Commission (EEOC), the agency announced on September 8. EEOC charged that the contractor violated federal law when it refused to accommodate an employee's religious belief, and then fired him because of his religion.
According to EEOC's complaint, since 2007, the employee worked as a truck driver for the company. The employee's Seventh-day Adventist faith requires him to refrain from working for hire on Saturdays in observance of the Sabbath. The company's facilities were usually closed on Saturdays and employees only worked Saturdays on limited occasions. According to EEOC's complaint, the company asked the employee to work on Saturday, March 22, 2014. When the employee said he could not work Saturdays based on his religious beliefs, the company failed to accommodate him and then discharged him for that reason, EEOC said.
Such conduct violates Title VII of the Civil Rights Act of 1964, which requires employers to make reasonable accommodations to sincerely held religious beliefs of employees, absent undue hardship.
In addition to monetary damages, the five-year consent decree settling the suit requires the company to create an anti-discrimination policy and provide annual training on Title VII's protection against religious discrimination. The five-year consent decree also requires the contractor to post a notice to its employees about the lawsuit and to provide periodic reports to EEOC regarding how it responds to requests for religious accommodations during the decree's term.
---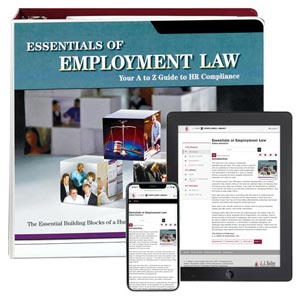 J. J. Keller's Essentials of Employment Law Manual covers more than 100 vital HR topics, including FMLA, ADA, HIPAA, FLSA, COBRA and more.
---
J. J. Keller's FREE HRClicks™ email newsletter brings quick-read human resources-related news right to your email inbox.