Oregon revises tuberculosis program directive to follow current CDC guidelines
Posted September 14, 2015
On September 4, the Oregon Occupational Safety and Health Division revised their program directive on tuberculosis (TB) to follow current CDC guidelines. The directive is to be followed when potential exposures to TB are found in the workplace. The instruction provides uniform inspection procedures and guidelines when conducting inspections and issuing citations under the Oregon Safe Employment Act, and pertinent standards for employees who are occupationally exposed to tuberculosis.
In 2005 the CDC revised their TB infection control guidelines. Oregon OSHA believes these guidelines reflect industry recognition of the hazard as well as appropriate, widely recognized, and accepted standards of practice to be followed by employers in carrying out their responsibilities under the Oregon Safe Employment Act.
The 1994 CDC Guidelines were aimed primarily at hospital-based facilities, which frequently refer to a physical building or set of buildings. The 2005 guidelines have been expanded to address a broader concept. "Setting" has been chosen instead of "facility" to expand the scope of potential places where these guidelines apply.
Drug resistant strains of M. tuberculosis have become a serious concern and cases of have occurred in forty states. Also, extensively drug-resistant tuberculosis has been reported in nine states.
M. tuberculosis is usually transmitted only through air, not by surface contact. It is carried through the air in tiny infectious droplet nuclei of 1 to 5 micrometers in diameter. These droplets may be generated when a person with TB coughs, speaks, sings, sneezes, or spits. When inhaled by susceptible people, the mycobacteria in these droplets may become established in the lungs and, in some cases, spread throughout the body. After an interval of months, years, or even decades, the initial infection may then progress to clinical illness.
In occupational healthcare settings, where patients with TB are seen, workers exposed to tuberculosis droplet nuclei are at increased risk of infection with exposure to TB. Certain high-risk medical procedures that are cough-inducing or aerosol generating can further increase the risk of infection in healthcare workers.
For more information see the program directive.
---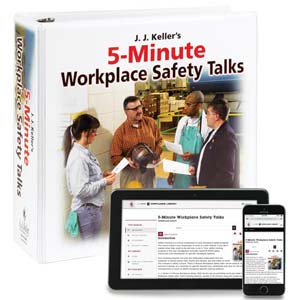 With J. J. Keller's 5-Minute Workplace Safety Talks manual, you get more than 240 different five-minute mini training sessions that fit into your busy schedule and those of your employees.
---
J. J. Keller's FREE Workplace SafetyClicks™ email newsletter brings quick-read workplace safety and compliance news right to your email box.