Oil field services company pays $30,000 to settle EEOC retaliation suit
Posted September 9, 2015
A Texas oil field construction and services company will pay $30,000 and furnish other relief to settle a retaliation lawsuit brought by the EEOC. The EEOC's suit charged that the company fired its only female roustabout after she reported being sexually harassed on the job.
Hired by the company in January 2012 as a dump truck driver, the employee spent most of her employment as the company's only female oil field worker. In this roustabout position, she worked side by side with her male coworkers fixing oil and gas leaks, digging ditches, and cleaning heavy equipment. EEOC said that during her employment, she was subjected to lewd comments about female organs and sex. EEOC contends that when she reported the unwanted conduct, the company retaliated against her by terminating her.
Retaliation for reporting sexual harassment violates Title VII of the Civil Rights Act of 1964. The EEOC filed suit after first attempting to reach a pre-litigation settlement through its conciliation process.
In addition to monetary relief, the consent decree settling the suit includes injunctive terms such as requiring the company to:
Implement a written anti-retaliation policy to ensure that employee complaints are addressed while providing protection to employees from adverse employment action for lodging such complaints;
Conduct annual training for all officers, managers, gang pushers, and roustabouts for three years on the law against retaliation in the workplace; and
Post an anti-discrimination and anti-retaliation notice.
---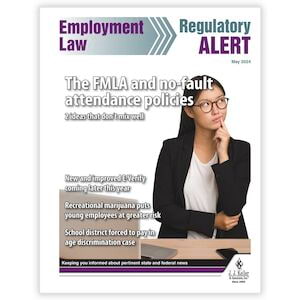 J. J. Keller's Employment Law Today newsletter explains why you need to care, what you need to do and how your business could be affected by HR industry news.
---
J. J. Keller's FREE HRClicks™ email newsletter brings quick-read human resources-related news right to your email inbox.