FMCSA extends entry-level driver training comment period
Posted September 4, 2015
The Federal Motor Carrier Safety Administration (FMCSA) is extending the comment period on its Information Collection Request (ICR) for the estimate of the paperwork burden imposed by its regulations pertaining to the submission of a training certificate to a motor carrier employer by an entry-level driver of a commercial motor vehicle (CMV). FMCSA estimates that an entry-level driver requires approximately 10 minutes to complete the tasks necessary to comply with these regulations. The tasks are photocopying a training certificate, giving the photocopy to the motor carrier employer, and retaining the original of the certificate.
Since 2004, FMCSA regulations have prohibited the operation of certain CMVs by individuals with less than 1 year of CMV-driving experience until they obtain this training. On May 28, 2015, FMCSA published a Federal Register notice allowing for a 60-day comment period on this ICR. The agency received no comments in response to that notice.
Comments must be received by October 5, 2015.
---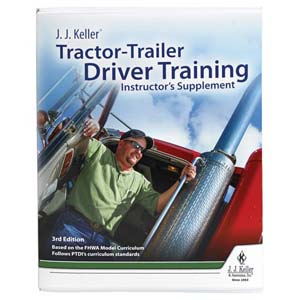 J. J. Keller's Tractor-Trailer Driver Training Instructor's Supplement - Online Access + Print helps ensure drivers understand the fundamentals of safe, professional driving and compliance.
---
J. J. Keller's FREE Transportation SafetyClicks™ email newsletter brings quick-read safety and compliance news right to your email box.
Sign up to receive Transportation SafetyClicks™.