Employers must consider ADA accommodation alongside FMLA leave
Posted September 11, 2015
Can you see it now? Employee with fibromyalgia requests and takes Family and Medical Leave Act (FMLA) leave for her condition. After her 12 weeks of FMLA leave is exhausted, the employer begins to feel more in control. Then the employee requests a temporary modified work schedule, an ergonomic chair, and adjustments to the lighting in her office. The employer, in response, requires that the employee remain on leave until she is able to return to work without any restrictions or accommodations. The employee requests further accommodations, and eventually claims the employer is discriminating against her.
Does this scenario sound familiar? Some employers could see such requests as excessive, and perhaps the one involved in this particular case did. It fired the employee, arguing that she failed to engage in the interactive process within reasonable terms.
The employee, however, did not see the requests as excessive, and the Equal Employment Opportunity Commission (EEOC), which enforces the employment provisions of the Americans with Disabilities Act (ADA), agreed with her. The EEOC filed suit on the employee's behalf and won. The employer ended up paying $112,500 and furnishing other relief to settle the disability discrimination lawsuit. The company is also required to train all employees and district managers responsible on the ADA's requirements, including the need to provide reasonable accommodation to qualified individuals with disabilities. The company will also need to report to EEOC if there are any further complaints of disability discrimination or retaliation.
According to EEOC Regional Attorney Mary Jo O'Neill, "Sometimes the employer and employees will have to engage in a number of conversations and discussions of options in order to arrive at an effective reasonable accommodation. Employers should also know that imposing a requirement that employees be without any restrictions whatsoever in order to return to work is a recipe for disaster."
Words to live by. If you require an employee to have no restrictions before returning to work, you're basically ignoring the reasonable accommodation provision of the ADA. The FMLA does not require employers to provide accommodations other than leave, but the FMLA is often not the only law in play.
If it appears an employee might not be able to return to work at the end of FMLA leave, start the ADA interactive process early. Listen to and consider the employee's request. You might not need to provide the employee's requested accommodation if another one would be effective, but you shouldn't just brush it off. You will want to document why you turned down the employee's requested accommodation. And it should never be because your policy requires no restrictions.
EEOC v. Brookdale Senior Living Communities, Inc., Civil Action No. 14-cv-02643-KMT, August 14, 2015.
---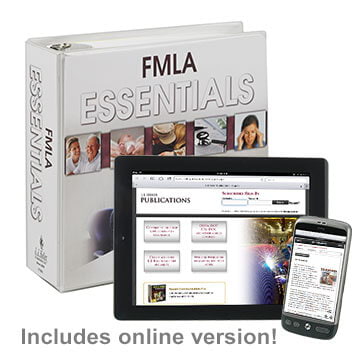 J. J. Keller's FMLA Essentials Manual uses clear, conversational language to help you understand the FMLA (Family and Medical Leave Act) requirements.
---
J. J. Keller's FREE HRClicks™ email newsletter brings quick-read human resources-related news right to your email inbox.