Welcome interruptions, but manage distractions
Posted August 22, 2016
The majority of people experience some level of annoyance when a productive moment is interrupted. This natural annoyance can, at times, grow into resentment toward the people causing the interruption, especially in deadline-driven work environments. While resentment among colleagues is less than ideal for a good working relationship, it can be even more dangerous for managers who are trying to juggle leadership duties with additional projects.
Employees who sense that a manager doesn't want to be "bothered" are unlikely to interrupt him or her, even when a situation is urgent and should be addressed by management. To create an atmosphere where interruptions are welcomed, but distractions are managed, try the following tips:
Accept it. Interruptions happen, and they very often cause delays. If you mentally prepare to be interrupted in the middle of a project, you are less likely to be frustrated by the interruption, and are more likely to calmly deal with it when it happens.
Plan for it. This may sound counterintuitive, as interruptions are by their very nature, unplanned events, but it helps to build interruptions (and the delays they cause) into the timeline of any project. For example, you know that it will take you three hours to complete a report that is due by noon on Tuesday. You also accept that interruptions happen, so you plan to start the report on Friday, rather than waiting until Tuesday morning when you may be interrupted by other events.
Communicate. The single best way to manage people-based distractions is to communicate your schedule to the work group. Need to finish a project? Let the people on your team know that you'll be off-limits until a certain time. Be judicious with the use of these interruption-free blocks of time, however, so you don't create the impression that all your time is regularly off-limits.
Delegate or postpone. When you are interrupted, take a moment to understand what the interruption involves. Is it urgent? Is there someone who can address the issue faster or better than you can? Could someone else get the ball rolling? If you're not facing an emergency, try to postpone your involvement or delegate the issue to a more appropriate resource. It is also perfectly acceptable to say, "I am sorry. I am just in the middle of something, and I want to be able to give you my full attention. Can I find you in ten minutes when I have finished this report?"
---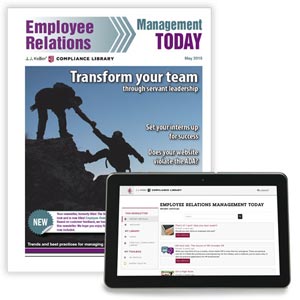 The SUPER adVISOR™ newsletter contains four pages dedicated to the HR manager and a corresponding four-page pullout dedicated to the needs of supervisors.
---
J. J. Keller's FREE HRClicks™ email newsletter brings quick-read human resources-related news right to your email inbox.