Put one myth of the 10-foot rule to rest
Posted August 19, 2016
If you haul cargo — especially on a flatbed — you've probably heard of the 10-foot rule: you need at least one tiedown for every 10 feet of cargo, plus an extra one if the cargo is not placed against a bulkhead.
Although this rule only talks about how many tiedowns you need, most people assume it also specifies where to put those tiedowns. In other words, most drivers believe you must have a tiedown placed within each 10-foot section of the load. That belief, however, is not necessarily true.
The rules
First, let's examine the rules themselves. In general, the North American Standard Cargo Securement Rules require you to use enough tiedowns so that their combined working load limit (WLL) is equal to at least one-half the weight of the cargo (or, the full weight when using "direct" tiedowns). Then, you may need additional tiedowns based on the cargo's length and weight, and whether or not the cargo is placed up against a bulkhead. As indicated in the following chart, you need at least one tiedown for every 10 feet of cargo length:

If the cargo:

and it is:

then use at least:

Is NOT prevented from moving forward by a bulkhead or other front end structure

5 feet or shorter, AND
1,100 pounds or lighter

1 tiedown.

5 feet or shorter, AND
over 1,100 pounds

2 tiedowns.

longer than 5 feet but is 10 feet or less, no mat­ter the weight

2 tiedowns.

longer than 10 feet

2 tiedowns, plus 1 additional tiedown for every additional 10 feet or part thereof.

is prevented from moving forward by being placed against a front-end structure

--

1 tiedown for every 10 feet or part thereof.
Enforcement
So how is the 10-foot rule enforced? According to guidance issued to the enforcement community, tiedowns can either be:
Spaced 10 feet apart along the length of the vehicle; OR
Positioned in every 10-foot segment of the cargo; OR
Spaced or grouped at lengths greater or less than 10 feet, to accommodate anchor points or prevent cargo damage.
This guidance is in agreement with the regulations which do not specifically state that tiedowns must be positioned every 10 feet.
Of course, tiedowns should be evenly spaced whenever possible, and having one every 10 feet may make sense in most cases. But at least the enforcement community recognizes that (a) the rules provide some flexibility in tiedown placement, and (b) drivers sometimes need that flexibility.
Review your cargo securement practices and make sure your drivers are aware of the 10-foot rule and how it is enforced.
Finally, keep in mind that there are many factors affecting cargo securement — and many ways to secure cargo — in addition to the information presented above. Refer to the federal cargo securement rules in Part 393 for all the details. And remember that it never hurts to go beyond the minimum and err on the side of safety!
---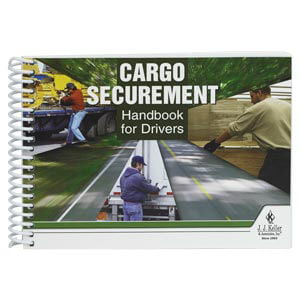 J. J. Keller's Cargo Securement Handbook for Drivers helps drivers determine the best cargo securement methods for the type of cargo they're transporting, based on government recommendations.
---
J. J. Keller's FREE Transportation SafetyClicks™ email newsletter brings quick-read safety and compliance news right to your email box.