Company pays 882 employees $1.8M in back wages after DOL investigation
Posted August 9, 2016
A federal investigation into pay practices at a technology subsidiary of a global bank revealed the Florida company denied hundreds of employees overtime compensation and did not maintain time records, both violations of the Fair Labor Standards Act (FLSA).
After a U.S. Department of Labor (DOL) Wage and Hour Division (WHD) investigation of the company in Tampa, the employer has paid 882 employees a total of $1,870,009 in back wages and a civil penalty of $97,680 for repeat violations. The investigation focused on the company's anti-money laundering division and its practice of classifying analysts improperly as administratively exempt from the FLSA's overtime requirement. By misapplying an exemption to these workers, the company denied them overtime compensation when they worked more than 40 hours in a workweek. The employer also failed to maintain required time records for these employees.
The company has paid the back wages, will comply with the FLSA going forward, and has signed an agreement with the DOL which requires them to review compliance for all of their remaining analyst positions and notify the WHD in writing if any back wages are due. The wages and penalty cover violations committed between Nov. 2, 2013, and Oct. 31, 2015.
The FLSA provides an exemption from both minimum wage and overtime pay requirements for individuals employed in bona fide executive, administrative, professional, and outside sales positions, as well as certain computer employees. To qualify for exemption, employees generally must meet certain tests regarding their job duties and be paid on a salary basis at not less than $455 per week. Job titles do not determine exempt status. For an exemption to apply, an employee's specific job duties and salary must meet all the requirements of the DOL's regulations. On May 18, 2016, the DOL announced a final rule updating these requirements. The effective date of the final rule is Dec. 1, 2016.
---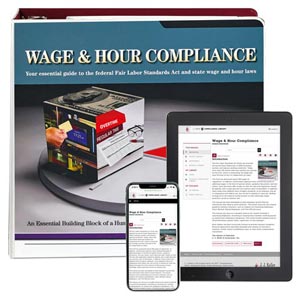 J. J. Keller's Wage and Hour Compliance with FLSA Manual provides critical info to help you comply with the Fair Labor Standards Act (FLSA) and state wage and hour laws.
---
J. J. Keller's FREE HRClicks™ email newsletter brings quick-read human resources-related news right to your email inbox.