Average cost-per-hire for companies is about $4,100, survey finds
Posted August 8, 2016
The average cost-per-hire is about $4,100, while the average time it takes to fill a given position is 42 days, according to the Society for Human Resource Management's (SHRM's) new Human Capital Benchmarking Report.
In terms of employee retention, the average employee tenure is eight years, the annual turnover rate is 19 percent, and the involuntary turnover rate is 8 percent. These statistics remained stable when compared to last year's findings.
The report analyzes data collected from the SHRM Human Capital Benchmarking Survey in 2016. The survey of 2,048 respondents measured employment, retirement, compensation, employer-paid tuition, and other people metrics. The data was collected from February to April 2016 and reflect fiscal year 2015. Metrics from this report are useful to organizations as they evaluate their own operations and practices and can be customized to meet specific needs.
Among other findings:
Tuition: 61 percent of employers offered tuition reimbursement. The average maximum reimbursement allowed for tuition/education expenses per year was approximately $4,000.
Compensation: The average annual salary increase was 2.7 percent each year. The average target bonus percentage for nonexecutives was 4.7 percent compared to 10.2 percent for executives.
Retirement: Among those companies that offered a 401(k), 402(b), or similar plan (92 percent), an average of 66 percent of employees participated. The maximum employer match was 6 percent.
Succession Planning: One-third of companies (34 percent) had a succession plan. The positions most commonly included in an organization's succession plan included the executive team (76 percent), senior management (71 percent), and middle management (46 percent).
Management Responsibility: Those employees in middle management positions had the most direct reports (a median of 8 direct reports) compared to those at the executive level (a median of 5 direct reports).
---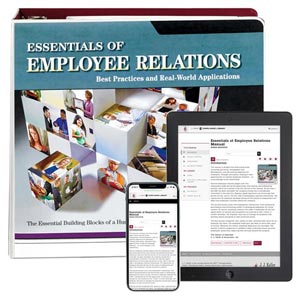 J. J. Keller's Essentials of Employee Relations Manual comprehensive guide is an ideal resource for anyone with responsibilities related to employee relations, including HR managers and supervisors, recruiters and more.
---
J. J. Keller's FREE HRClicks™ email newsletter brings quick-read human resources-related news right to your email inbox.