ATRI offers strategies to fight traffic congestion
Posted August 12, 2016
Earlier this year the American Transportation Research Institute's (ATRI) research quantified the cost of congestion to the trucking industry at $49.6 billion in 2014. According to ATRI, one of the ways to address that congestion is more effectively and efficiently moving people and goods through major urban areas. Integrated Corridor Management (ICM) is one tool in the toolkit that ATRI says holds great promise for addressing urban congestion.
The research institute recently led the development of two Primers for the U.S. Department of Transportation's Integrated Corridor Management (ICM) program. The vision of ICM is for transportation networks to realize significant improvements in the efficient movement of people and goods through integrated, proactive management of existing infrastructure along major corridors. Working through an ICM approach, transportation professionals manage the corridor as a multimodal system and make operational benefits for the benefit of the corridor as a whole.
ATRI's Primer, Integrated Corridor Management and Freight Opportunities examines how freight can be incorporated into an ICM approach as well as the benefits of ICM in addressing many of the challenges in moving freight through major corridors. The other Primer, Integrated Corridor Management and Traffic Incident Management describes how traffic incident management (TIM) can be incorporated into ICM as well as detailing the many benefits that ICM brings to the advancement of TIM programs.
---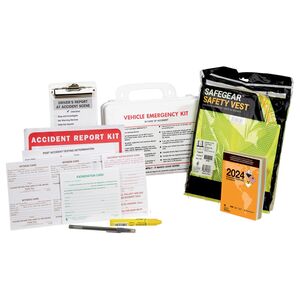 J. J. Keller's Accident Compliance Kit helps drivers collect, organize and report vehicle accident information.
---
J. J. Keller's FREE Transportation SafetyClicks™ email newsletter brings quick-read safety and compliance news right to your email box.