NTSB issues preliminary report for fatal Florida crash
Posted July 29, 2016
The National Transportation Safety Board (NTSB) issued its preliminary report for the investigation of a fatal May 7, 2016, highway crash on US Highway 27A, near Williston, Florida.
The preliminary report does not contain any analysis of data and does not state probable cause for the crash.
The preliminary report details the collision involving a truck-tractor in combination with a 53-foot semitrailer and a car. The report states that according to system performance data downloaded from the car, the indicated vehicle speed was 74 mph just prior to impact, and the posted speed limit was 65 mph.
The car's system performance data also revealed the driver was using the advanced driver assistance features Traffic-Aware Cruise Control and Autosteer lane keeping assistance. The car was also equipped with automatic emergency braking that is designed to automatically apply the brakes to reduce the severity of or assist in avoiding frontal collisions.
A team of five NTSB investigators traveled to Williston to conduct the on-scene phase of the investigation. The team used three-dimensional laser scanning technology to document the crash location, the damaged trailer, and the damaged car. NTSB investigators continue to collect and analyze performance data from the car's multiple electronic systems. This data along with other information collected during the on-scene phase of the investigation will be used to evaluate the crash events.
All aspects of the crash remain under investigation. While no timeline has been established, final reports are generally published 12 months after the release of a preliminary report.
Accident details
According to NTSB's executive summary, the accident resulted in the death of the 40-year-old male driver and the sole occupant of the car. The summary states the following occurred:
The car was traveling eastbound on US Highway 27A (US-27A), west of Williston, Florida, struck and passed beneath the truck-tractor in combination with a 53-foot semitrailer.
At the time of the collision, the combination vehicle was making a left turn from westbound US-27A across the two eastbound travel lanes onto NE 140th Court, a local paved road.
As a result of the initial impact, the battery disengaged from the electric motors powering the car.
After exiting from underneath the semitrailer, the car coasted at a shallow angle off the right side of the roadway, traveled approximately 297 feet, and then collided with a utility pole.
The car broke the pole and traveled an additional 50 feet, during which it rotated counterclockwise and came to rest perpendicular to the highway in the front yard of a private residence.
---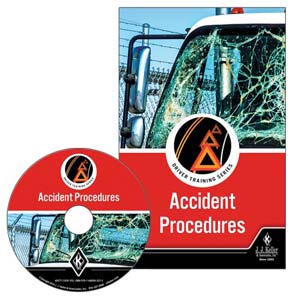 J. J. Keller's Driver Training Series: Accident Procedures - DVD Training provides step-by-step procedures for what to do after a crash.
---
J. J. Keller's FREE Transportation SafetyClicks™ email newsletter brings quick-read safety and compliance news right to your email box.