FMCSA seeks comments on new medication form
Posted July 12, 2016
The Federal Motor Carrier Safety Administration (FMCSA) published a notice announcing an Information Collection Request for a new commercial motor vehicle (CMV) driver medication form.
According to FMCSA, the information collection is voluntary and may be utilized by medical examiners (MEs) responsible for issuing Medical Examiner's Certificates (MECs) to commercial motor vehicle (CMV) drivers.
MEs that choose to use the IC will do so in an effort to communicate with treating health care professionals who are responsible for prescribing certain medications, so that the ME fully understands the reasons the medications have been prescribed. The FMCSA notice says the form will include the following information:
All medications and dosages prescribed by the health care provider to the driver.
Any other medications and dosages that the health care provider is aware have been prescribed to the driver by another treating healthcare provider.
Medical conditions being treated with these medications.
The information obtained by the ME when utilizing the IC will assist the ME in determining if the driver is medically certified according to the physical qualifications standards outlined in 49 CFR 391.41 and to ensure that there are no disqualifying medical conditions or underlying medical conditions and prescribed medications that could adversely affect their safe driving ability or cause incapacitation constituting a risk to the public.
FMCSA asks for comments to be sent by August 8, 2016. All comments should reference Federal Docket Management System (FDMS) Docket Number FMCSA-2015-0180.
---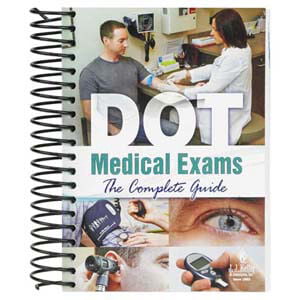 J. J. Keller's DOT Medical Exams: The Complete Guide is a comprehensive medical exam reference for motor carriers, drivers and medical professionals.
---
J. J. Keller's FREE Transportation SafetyClicks™ email newsletter brings quick-read safety and compliance news right to your email box.