WHD Administrator discusses overtime exemption rules at SHRM conference
Posted June 22, 2016
It's been more than a month since the Department of Labor's (DOL) overtime rule was released, and in that time a number of comments about its expected impact have emerged. This includes some that David Weil, administrator of the department's Wage and Hour Division, calls "head-scratchers."
Weil spoke June 19 at the Society for Human Resources Managers (SHRM) 2016 Annual Conference and Exposition in Washington, D.C. The conference, which runs through June 22, is expected to draw more than 15,000 human resources professionals for sessions ranging from employment regulation to recruiting and workforce trends.
The overtime rule, which takes effect on Dec. 1, 2016, increases the salary level that's required for executive, administrative, and professional employees to be exempt from overtime to $47,476 annually. In addition, it establishes a mechanism to raise the level every three years.
The rule looks to fix overtime rules that are "broken," Weil said, pointing out that 62 percent of workers were below the exempt salary threshold in 1975, compared to 7 percent today.
The department received 270,000 comments on the rule, which was released in preliminary form July 6, 2015, and in its final version on May 18, 2016. It is estimated that 4.2 million workers will receive overtime protections under the new rule.
The DOL tried to strike a balance between the needs of employers and employees with the new rule, Weil said, and given the amount of input the department received he was surprised by some of the reaction.
Weil noted that in response to the new rule, employers can:
Pay employees time and one-half for overtime work.
Raise an employee's salary level above the new threshold.
Limit an employee's work to 40 hours per week.
Use some combination of the above.
He also addressed some reactions he calls "myths" raised by employers and other advocacy groups:
The rule will hurt the people the Department of Labor is trying to help.

The rule does not force employers to use a single solution in order to comply with the rule, Weil said.

"The idea that an employer is straight jacketed into one response is absurd," he said. "You can bump up the salary level, but that's not the only thing you can do."

Time tracking will be difficult.

More workers may need to track their time under the new rule, but employers can take the knowledge they have from workers who already track their time and apply it to workers who now fall under the overtime rule, he said.

He noted that some of those who say time tracking will be challenging are lawyers who "track their own time in six-minute increments."

The rule will hurt morale.

While the final rule was being crafted, the division spoke to workers to get their opinion of the changes.

"Not a single worker said I'd really rather have recognition than the additional income," Weil said. "What hurts morale is working 60-hour weeks week after week and not being compensated for it."

It will cause more litigation.

"That's a big head scratcher," Weil said.

The new rule includes a bright line salary test and there was no change to the duties test. As a result, employees are more likely to be correctly classified under the new overtime rule, reducing litigation, he said.
He noted that the DOL is not engaged in a game of "gotcha" with the final rule, but uses both enforcement and guidance as it focuses on providing workers with a fair day's pay for a fair day's work.
"Yes, I'm sure there are parts of the rule people in this room and out there don't agree with," he said. "Let's get over the phase of fighting over the rule and on track with achieving what the rule intends to do by making the adjustments the rule requires us to do."
This story was written by Terri Dougherty of J. J. Keller & Associates, Inc.
---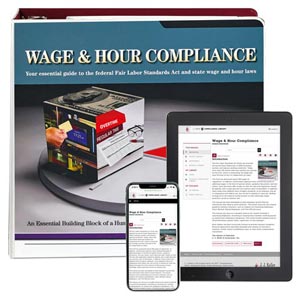 J. J. Keller's Wage and Hour Compliance with FLSA Manual provides critical info to help you comply with the Fair Labor Standards Act (FLSA) and state wage and hour laws.
---
J. J. Keller's FREE HRClicks™ email newsletter brings quick-read human resources-related news right to your email inbox.