FMCSA responds to ELD rule challenge
Posted June 20, 2016
The Federal Motor Carrier Safety Administration (FMCSA) has responded to a lawsuit filed, challenging its electronic logging device (ELD) final rule.
The challenge, filed by the Owner-Operator Independent Drivers Association (OOIDA) December 11, 2015, asks the U.S. Court of Appeals for the Seventh Circuit to review the ELD final rule on the grounds that the rulemaking:
Does not improve hours-of-service compliance,
Fails to ensure that ELDs are not used to harass drivers, and
Violates drivers' fourth amendment rights to be free from unreasonable seizures and searches.
HOS Compliance
In its response to the charge that ELDs do not improve hours-of-service compliance, FMCSA states that "while ELDs cannot entirely eliminate the possibility of falsified records," ELDs automatically record driving data, location, engine hours, and other data that cannot be easily manipulated. The agency also states that the devices are tamper-resistant. This, they state, helps in preventing inadvertent or intentional violations and is an improvement in ensuring hours-of-service compliance by making evasion of the rules more difficult to hide.
Driver Harassment
In its response to the charge that ELDs fail to ensure that drivers are not harassed, FMCSA points to its definition of "harassment" in Section 390.36(a) of the Federal Motor Carrier Safety Regulations (FMCSRs).
This definition, in part, is the result of two listening sessions and surveys of drivers and motor carriers. Based on this input, the definition addresses harassment via the use of an ELD and prohibits motor carriers from engaging in this type of activity.
Fourth Amendment
FMCSA states that the rulemaking does not violate the fourth amendment, as ELDs are neither "searches" nor "seizures." The agency cites several previous legal decisions in its argument that the installation of an ELD does not meet criteria for an illegal search and that collecting data from the ELD does not meet criteria legally defining seizure.
About the ELD rulemaking
FMCSA published the ELD final rule in December 2015, requiring the installation of FMCSA-registered and certified ELDs by December 18, 2017. Motor carriers that are currently using an automatic on-board recording device (AOBRD) that meets the requirements of Section 395.15 may continue to use the AOBRDs until December 16, 2019.
FMCSA filed its response to OOIDA's petition for review of the ELD rule on June 15, 2016.
---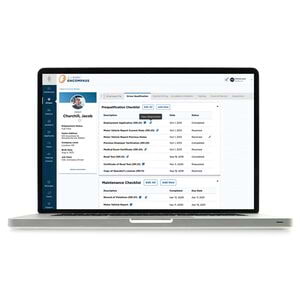 J. J. Keller® E-Logs - Compatible with iPad®, iPhone® and Android™ mobile devices. Affordable, flexible options from the nation's most respected transportation solutions provider.
---
J. J. Keller's FREE Transportation SafetyClicks™ email newsletter brings quick-read safety and compliance news right to your email box.