Employers face increased challenges finding qualified job applicants, survey finds
Posted June 28, 2016
As employers experience increased challenges in hiring qualified applicants, HR professionals will need to build strong cases for greater investments in securing talent, according to the New Talent Landscape: Recruiting Difficulty and Skills Shortages research report released by the Society for Human Resource Management (SHRM).
More than one-half of HR professionals surveyed reported some level of basic skills/knowledge deficits among job applicants, and 84 percent said applicants are lacking when it comes to applied skills.
The report's findings indicate that HR professionals must gather information and data to support the most effective recruiting and hiring strategies in this competitive environment.
Other findings in the report, which is based on survey responses from 3,314 SHRM members include:
Health and social assistance and manufacturing industries report the highest levels of recruiting difficulty. For instance, 46 percent of respondents indicated that the most-difficult-to-recruit-for positions are in the high-skilled medical job categories.
Smaller organizations (those with 1 to 99 employees) reported having the most difficulty in filling full- time manager and skilled trade positions.
Reasons for a more difficult recruiting environment include:

Small number of applicants,
Candidates without the needed work experience,
Competition from other employers,
Candidates' lack of technical skills, and
Local market not producing enough qualified candidates.

Leveraging social media was the most common strategy HR professionals reported using to deal with recruiting difficulty. However, the strategy that was reported to be the most effective was training existing employees to take on hard-to-fill roles.
Despite the effectiveness of training, the report's findings indicate that some HR professionals are faced with managing skills gaps without a training budget. Almost one-third of respondents reported that their organizations had no training budgets. Meanwhile, 11 percent reported that their training budgets had decreased in the last year.
However, some organizations seem to be getting the message that there is a need for training, with 39 percent of respondents reporting that their organizations had increased their training budgets in the last 12 months. Meanwhile, 50 percent said budgets had remained unchanged.
To effectively manage the dual challenges of recruiting difficulty and skills shortages, HR professionals will need to work with their organizations' leaders and others to invest in education and training as a way to address skills shortfalls, according to the report.
---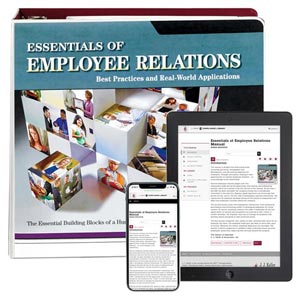 J. J. Keller's Essentials of Employee Relations Manual comprehensive guide is an ideal resource for anyone with responsibilities related to employee relations, including HR managers and supervisors, recruiters and more.
---
J. J. Keller's FREE HRClicks™ email newsletter brings quick-read human resources-related news right to your email inbox.