PBGC issues proposed rule to reduce premium penalties for pension plans
Posted May 2, 2016
The Pension Benefit Guaranty Corporation (PBGC) is proposing to cut penalties for late payment of premiums in an effort to reduce costs and make it easier for plan sponsors to maintain traditional pension plans.
Currently, PBGC uses a two-tiered penalty structure that rewards self-correction: A lower rate of 1 percent of the late payment per month applies when a delinquency is corrected before PBGC notifies the sponsor. A higher rate of 5 percent applies if the correction is made following PBGC notification. Penalties in the first category are capped at 50 percent of the late amount, and 100 percent in the second instance.
The proposed rule, published in the Federal Register on April 28, would reduce penalties for late payers by half. Additionally, for sponsors with good payment histories that pay promptly following notification of late payment, PBGC will reduce the penalty by 80 percent.
The proposed changes will apply to both single-employer and multiemployer plans, and will apply to late premium payments for plan years beginning in 2016 or later.
Under the Employee Retirement Income Security Act of 1974 (ERISA), plans covered by PBGC pay premiums each year. Premium rates are set by Congress. A summary of past, current, and future rates is available on PBGC's website.
---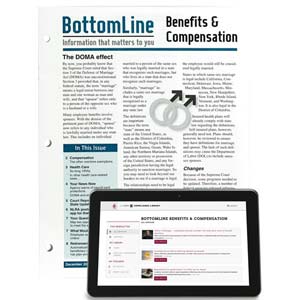 J. J. Keller's BottomLine Benefits & Compensation is an 8-page, monthly newsletter that addresses key issues relating to benefits and compensation programs.
---
J. J. Keller's FREE HRClicks™ email newsletter brings quick-read human resources-related news right to your email inbox.