BLS data shows fatal work-related injuries highest in more than 5 years
Posted May 2, 2016
The Bureau of Labor Statistics has updated the number of fatal work injuries in the United States for 2014. The final count was 4,821, up from the preliminary count of 4,679 reported in September 2015 and the highest annual total since 2008.
The overall fatal work injury rate for the United States in 2014 was 3.4 fatal injuries per 100,000 full-time equivalent (FTE) workers, slightly higher than the final rate of 3.3 reported for 2013. The higher overall rate in 2014 is the first increase in the national fatal injury rate since 2010.
Among the changes resulting from the updates:
The private construction industry saw a net increase of 25 fatal work injuries after updates were added, resulting in a revised count of 899. The 2014 total was 9 percent higher than the 2013 total and represented the largest number of fatal work injuries in private construction since 2008.
Fatal falls, slips, and trips rose by 25 cases after updates, increasing the falls, slips, and trips total to 818 cases.
After the updates, fatal injuries in the private mining, quarrying, and oil and gas extraction industries rose to 183, the highest since 2007. Fatal work injuries in oil and gas extraction industries increased to 144 in 2014, a new high for that series.
Fatal work injuries due to roadway incidents were higher by 82 cases (8 percent) from the preliminary count, increasing the total number of deaths in 2014 to 1,157 cases. The final 2014 total represented a 5 percent increase from the final 2013 count.
Workers age 55 and over incurred 1,691 fatal work injuries in 2014, increasing by 70 after updates were included. The 2014 figure represents the largest number ever recorded for this group of workers and is 8 percent larger than the next largest annual total.
---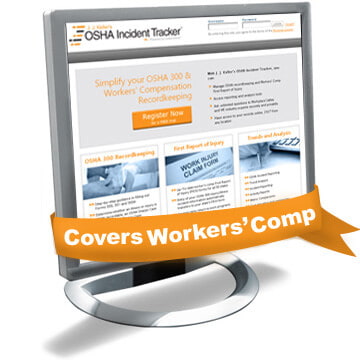 J. J. Keller's OSHA Incident Tracker™ Tool with Workers' Compensation Recordkeeping helps you simplify your OSHA Form 300 and workers' compensation recordkeeping.
---
J. J. Keller's FREE Workplace SafetyClicks™ email newsletter brings quick-read workplace safety and compliance news right to your email box.