Vermont becomes fifth state to enact paid sick leave
Posted April 8, 2016
The state-based wave of paid sick leave continues, as Vermont joins California, Connecticut, Massachusetts, Oregon, and Washington D.C. in entitling employees to paid sick leave. The general provisions of Vermont's law are as follows:
Covered employers: Those with more than five employees will be subject to the law as of January 1, 2017, while those with five or fewer will be subject to it as of January 1, 2018.
Eligible employees: Those who work at least an average of 18 hours per week during a year, and worked at least 20 weeks in a 12-month period. Ineligible employees include certain state or federal employees, per diem or intermittent employees, employees 18 or younger, and certain sole proprietors, partner owners, executive officers, or managers.
Waiting period: Employers may require a waiting period of up to one year for newly hired employees or for current employees who are employed on the law's effective date. During the waiting period, employees accrue sick time, but are not to use it until after the completion of the waiting period.
Accrual: Eligible employees accrue at least one hour of sick time for every 52 hours worked, and must be allowed to carry unused leave over to a subsequent year, but there may be caps. From January 1, 2017, to December 31, 2018, employers may cap accrual to 24 hours in a 12-month period, and after December 31, 2018, limit accrual to 40 hours in a 12-month period.
Use of leave: Eligible employee may use earned sick leave for the following reasons:
The employee's illness or injury.
Obtaining professional diagnostic, preventive, routine, or therapeutic health care.
Caring for a sick or injured parent, grandparent, spouse, child, sibling, parent-in-law, grandchild, or foster child, or obtaining diagnostic, preventive, routine, or therapeutic health treatment for such a family member, or accompanying such a family member to an appointment related to the family member's long-term care.
Arranging for social or legal services or obtaining medical care or counseling for the employee or the employee's family member who is a victim of domestic violence, sexual assault, or stalking.
To care for a family member because the school or business where that family member is normally located during the employee's workday is closed for public health or safety reasons.
Benefits continuation: Group insurance benefits must be continued while an employee is on paid sick leave, as they were before leave began.
Poster: Employers will be required to post a notice of the provisions of this law conspicuously to employees, and notify new hires of the provisions.
Current leave policy: If employers already offer paid time off that mirrors the new provisions, they need not provide more.
More sick leave laws may be on the way. Other states, such as Maryland, New Jersey, and Wisconsin, have introduced bills that would provide for paid sick leave.
This article was written by Darlene Clabault of J. J. Keller & Associates, Inc.
---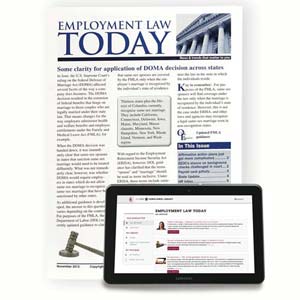 J. J. Keller's Employment Law Today newsletter explains why you need to care, what you need to do and how your business could be affected by HR industry news.
---
J. J. Keller's FREE HRClicks™ email newsletter brings quick-read human resources-related news right to your email inbox.