USCIS: H-1B cap premium processing to begin May 12
Posted April 27, 2016
The U.S. Citizenship and Immigration Services (USCIS) announced it will begin premium processing for cap-subject H-1B petitions requesting premium processing on May 12, 2016. This includes petitions seeking an exemption for individuals with a U.S. master's degree or higher.
USCIS first announced in a news release that it would temporarily adjust its premium processing practice due to the historic premium processing receipt levels, combined with the possibility that the H-1B cap will be met in the first 5 business days of the filing season.
USCIS provides premium processing service for certain employment-based petitions and guarantees a 15-calendar-day processing time.
For H-1B petitions that are not subject to the cap and for any other visa classification, the 15-day processing period for premium processing service begins on the date that USCIS receives the request. However, for cap-subject H-1B petitions, including advanced degree exemption petitions, the 15-day processing period set by 8 CFR 103.7(e)(2) will begin on May 12, 2016, regardless of the date on the Form I-797 receipt notice, which indicates the date that the premium processing fee is received.
---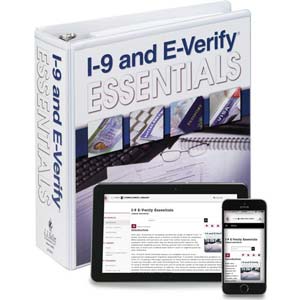 J. J. Keller's I-9 and E-Verify Essentials Manual contains up-to-date info on new Form I-9 requirements and the entire employment authorization process.
---
J. J. Keller's FREE HRClicks™ email newsletter brings quick-read human resources-related news right to your email inbox.