EPA publishes 21st annual U.S. greenhouse gas inventory
Posted April 27, 2016
EPA has released its 21st annual Inventory of U.S. Greenhouse Gas Emissions and Sinks (GHG Inventory), which presents a national level overview of annual greenhouse gas emissions since 1990. The inventory shows a nine percent drop in emissions since 2005, and a one percent increase in greenhouse gas emissions in 2014 from 2013 levels.
Total U.S. greenhouse emissions were 6,108 million metric tons of carbon dioxide equivalent in 2014. By sector, power plants were the largest source of emissions, accounting for 30 percent of total U.S. greenhouse gas pollution. The transportation sector was the second largest source, at 26 percent. Industry and manufacturing was the third largest source, at 21 percent. As noted in the draft inventory released in February 2016, a one percent increase in total national greenhouse gas emissions between 2013 and 2014 was driven by increased fuel use — in the residential and commercial sectors, largely due to increased demand for heat that winter, and in the transportation sector.
EPA develops the GHG Inventory annually, revising its estimates with new, improved data when available. This year's inventory incorporates significant new emissions data, from EPA's Greenhouse Gas Reporting Program and other sources. Data on oil and gas show that methane emissions from the sector are higher than previously estimated. The oil and gas sector is the largest emitting-sector for methane and accounts for a third of total U.S. methane emissions.
The agency prepares the GHG Inventory annually in collaboration with other federal agencies, and submits the report to the Secretariat of the United National Framework Convention on Climate Change every year on April 15. The inventory covers seven key greenhouse gases: carbon dioxide, methane, nitrous oxide, hydrofluorocarbons, perfluorocarbons, sulfur hexafluoride, and nitrogen trifluoride. In addition to tracking U.S. greenhouse gas emissions, the inventory also calculates carbon dioxide that is removed from the atmosphere through the uptake of carbon in forests and other vegetation.
For more on the U.S. Greenhouse Gas Inventory Report, visit the EPA website.
View and sort the data in EPA's Greenhouse Gas Inventory Data Explorer.
---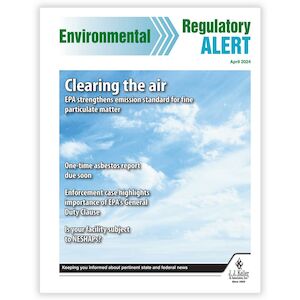 J. J. Keller's Environmental Alert: The Compliance Guide for Safety Professionals helps you stay on top of the latest environmental enforcement issues.
---
J. J. Keller's FREE Workplace SafetyClicks™ email newsletter brings quick-read workplace safety and compliance news right to your email box.