Parental and caregiving leave benefits show little growth since 2012, study finds
Posted March 13, 2017
Despite reports from well-known companies that they have expanded their paid-leave benefits, the average amount of parental and caregiving leave provided by U.S. employers has not changed significantly since 2012, the National Study of Employers has found.
The comprehensive study of how employers are responding to the changing workforce was designed and conducted by the Families and Work Institute (FWI) and released on March 8 by the Society for Human Resource Management (SHRM).
When certain big name companies announced that they were expanding their parental leave, it appeared that a trend had begun. But the study found otherwise, said Ellen Galinsky, president and co-founder of FWI and an author of the study.
"Whether high-profile companies offering paid leave are out of step with the majority of employers or leading the way remains to be seen," said Galinsky, who also is a senior research advisor at SHRM. "Given our findings that 78 percent of employers reported difficulty in recruiting employees for highly skilled jobs and 38 percent reported difficulty in recruiting for entry-level, hourly jobs, these high-profile companies could be leading the way in the strategic use of leave benefits."
The maximum length of paid or unpaid parental and caregiving leave was recorded in 2005, before the recession when the economy was strong. Since then, maternity, paternity, adoption, and caregiving leave have all declined. Today, the average maximum number of weeks of maternity leave is 14 ½, and a little more than 11 weeks is the average leave for a spouse/partner (paternity leave).
Over the past 11 years, the number of organizations offering at least some replacement pay for women on maternity leave has increased 12 percentage points, from 46 percent to 58 percent, Galinsky noted. But the study also found that, among employers offering any replacement pay, the percentage offering full pay has continued to decline from 17 percent in 2005 to 10 percent in 2016. In fact, of all employers with 50 or more employees, only 6 percent offer full pay.
The study did find that between 2012 and 2016 there was a small increase in the proportion of employers allowing at least some employees to return to work gradually after the birth of a child or adoption and to have special consideration after a career break for personal/family responsibilities.
Telecommuting on the rise
Telework is another workplace flexibility arrangement that has been in the news in the last two years. Despite several big-name companies dropping their telecommuting options, 40 percent of employers allow employees to work some of their paid hours at home on a regular basis, up from 33 percent in 2012, the study found.
Working at home occasionally has seen an even more dramatic increase, up from 34 percent in 2005 to 66 percent in 2016.
"These increases are probably due to increasing real estate costs and improvements in technology," Galinsky said. "In addition, many younger employees expect to work more flexibly."
Changes seen in workplace practices
Of the 18 forms of flexibility the study assessed, there were few changes between 2012 and 2016, representing a pause in the growth of flexibility.
But, in addition to the increase in regular work at home, two forms of flexibility have increased:
The percentage of employers allowing employees to return to work gradually after the birth of a child or adoption (from 73 percent in 2012 to 81 percent in 2016).
The percentage of employers allowing employees to receive special consideration after a career break for personal/family responsibilities (from 21 percent in 2012 to 28 percent in 2016).
One form of flexibility decreased during this time: the percentage of employers allowing employees to take time off during the workday to attend to important family or personal needs without loss of pay, which declined from 87 percent in 2012 to 81 percent in 2016.
"While more employers are being supportive in how employees return from parental and caregiving leave, there is less support for flexibility during the workday," Galinsky said. "What people need most is time off during the day, and fewer are getting it."
A surprising finding that may have contributed to the pause in flexibility was a dramatic drop in management support for flexible work arrangements — from 31 percent in 2005 to 14 percent in 2016. "This is worrisome," Galinsky said, "because having policies is not enough. Without management support, employees can't use policies. This suggests the need for more training for supervisors and others who manage employees."
---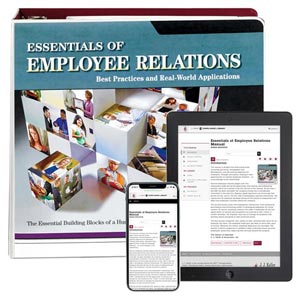 J. J. Keller's Essentials of Employee Relations Manual comprehensive guide is an ideal resource for anyone with responsibilities related to employee relations, including HR managers and supervisors, recruiters and more.
---
J. J. Keller's FREE HRClicks™ email newsletter brings quick-read human resources-related news right to your email inbox.