OSHA finds employer wrongfully terminated driver for refusing to operate unsafe truck
Posted March 9, 2016
A truck driver fired for refusing to drive a company vehicle pulled from service by the Iowa Department of Transportation (DOT) is owed $55,000 in back wages, damages, and compensation from his employer, according to the finding of a U.S. Department of Labor's Occupational Safety and Health Administration (OSHA) investigation.
In its determination, OSHA found the Nebraska-based company violated the whistleblower provisions of the Surface Transportation Assistance Act of 1982.
On January 16, 2015, Iowa commercial motor vehicle enforcement stopped and ticketed a tractor-trailer truck driver from the company for unsafe operation and for lacking proper state registration. The driver was directed to a repair shop, contacted his employer, and returned to Nebraska.
OSHA's investigation found on January 22, 2015, a co-worker drove the employee back to the repair shop in Iowa to retrieve the truck. According to the agency, the company directed the employee to drive the improperly registered vehicle back to Nebraska and told the driver to start his return trip after law enforcement personnel left the area. OSHA says when the driver refused to do so, the company immediately terminated him and forced him to find his own transportation home to Nebraska, a distance of about 170 miles.
OSHA has ordered the company pay the driver $25,000 in punitive damages and $30,000 in compensatory damages which includes back wages, repayment for tickets paid by the driver that were issued by the Iowa DOT, attorney fees, transportation back to Nebraska, and compensation for distress.
OSHA enforces the whistleblower provisions of 22 statutes protecting employees who report violations of various airline, commercial motor carrier, consumer product, environmental, financial reform, food safety, motor vehicle safety, health care reform, nuclear, pipeline, public transportation agency, railroad, maritime, and securities laws.
Both parties have 30 days from the receipt of OSHA's findings to file objections and request a hearing before an administrative law judge.
---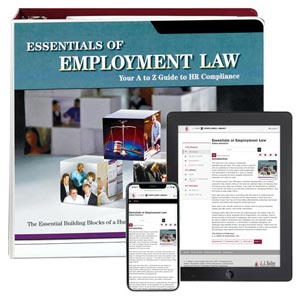 J. J. Keller's Essentials of Employment Law Manual covers more than 100 vital HR topics, including FMLA, ADA, HIPAA, FLSA, COBRA and more.
---
J. J. Keller's FREE HRClicks™ email newsletter brings quick-read human resources-related news right to your email inbox.