Massachusetts trucking company declared imminent hazard to public safety
Posted March 22, 2016
The Federal Motor Carrier Safety Administration (FMCSA) has declared a Worcester, Massachusetts-based trucking company to be an imminent hazard to public safety and ordered that it immediately cease all intrastate and interstate operations. The company was served the federal order on February 25, 2016.
In early February 2016, FMCSA investigators visited the company to conduct a compliance review. According to FMCSA, the company refused, or was unable, to produce:
Vehicle maintenance records, including servicing schedules, or documentation otherwise indicating that the company had a vehicle maintenance program;
Drivers' vehicle inspection reports or evidence that drivers undertook federally required pre-trip and post-trip safety inspections;
Evidence that defects identified in past roadside inspections had been corrected — before allowing that particular vehicle to be dispatched again;
Records for a majority of its drivers specially addressing driver qualification documentation, leading the company to dispatch multiple drivers that possessed suspended or invalid commercial driver's licenses (CDL);
Medical examiner's certificates for its drivers;
Complete records-of-duty status for its drivers or supporting documents, such as fuel and toll receipts; and
Records for a majority of its driver documenting that they underwent mandatory pre-employment controlled substances tests — before performing a safety-sensitive function including operating a commercial motor vehicle.
On December 4, 2015, a commercial truck operated by the company was involved in a single vehicle crash, fatally injuring the driver. The post-crash investigation by the New York State Police found multiple violations by the driver of federal hours-of-service regulations. The same driver had been cited for false records of duty status during roadside inspections that occurred on October 20, 2015 and again on December 2, 2015. During the compliance investigation, the company was unable to show that it had taken any subsequent action following the two roadside inspections to ensure that the driver — and all its drivers — complied with federal hours-of-service and records of duty status regulations.
The FMCSA says the company's continued use of unsafe vehicles and its failure to adequately oversee its drivers to ensure compliance with federal safety regulations substantially increases the likelihood of serious harm to its drivers and to the motoring public.
---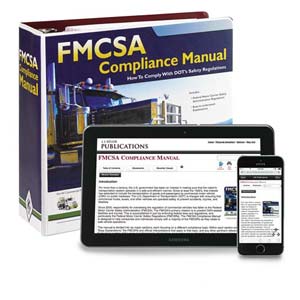 J. J. Keller's FMCSA Compliance Manual is the perfect resource for anyone managing or operating commercial motor vehicles (CMVs).
---
J. J. Keller's FREE Transportation SafetyClicks™ email newsletter brings quick-read safety and compliance news right to your email box.