EEOC hears wide range of views at public meeting on proposed changes to EEO-1 form
Posted March 22, 2016
On March 16, the U.S. Equal Employment Opportunity Commission (EEOC) convened a public hearing to obtain feedback from stakeholders on a proposal to revise the Employer Information Report (EEO-1) to include collecting pay data from private employers, including federal contractors with 100 or more employees.
Since 1966, certain employers have reported annually on the EEO-1 form the number of individuals they employ by race, ethnicity, and sex, reported by job category. Under the current proposal, employers with 100 or more employees would add information on aggregate pay ranges and hours worked to the information collected, beginning with the September 2017 report.
The Commission invited the public to participate in the hearing and heard from 15 witnesses. These witnesses represented a wide range of stakeholders, providing the views of employers, employees, and academics. The meeting gave the Commission an opportunity to hear varied perspectives on the proposal and to ask informational questions of the witnesses.
Some witnesses say that the reporting change would add time and cost for employers. While another says the updated form would help close the gender pay gap by creating access to data such as disparate pay practices and trends.
The statements and biographies of the all the witnesses at the hearing are available on the EEOC website.
The hearing complements the 60-day public comment period on the proposed EEO-1 changes, which began on February 1, 2016. The 60-day comment period ends on April 1, 2016. Interested members of the public may submit comments electronically at the Federal eRulemaking Portal.
---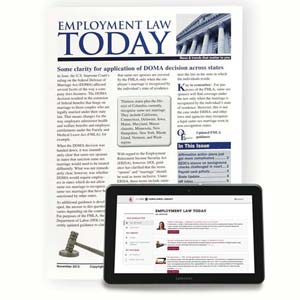 J. J. Keller's Employment Law Today newsletter explains why you need to care, what you need to do and how your business could be affected by HR industry news.
---
J. J. Keller's FREE HRClicks™ email newsletter brings quick-read human resources-related news right to your email inbox.