Vail condo association will pay more than $1M to settle discrimination and harassment lawsuit
Posted February 17, 2016
A condominium complex in Vail, Colorado, and its management company will pay $1,020,000 as part of the settlement of a sexual harassment, national origin discrimination, and retaliation lawsuit brought by the U.S. Equal Employment Opportunity Commission (EEOC), the agency announced on February 12.
EEOC's suit charged that the company violated federal law by allowing a housekeeping manager to sexually harass Mexican female employees, including attempted rape. EEOC further alleged the defendants retaliated against men and women who complained about the harassment to management and the owner.
According to EEOC's suit, the housekeeping manager targeted Mexican immigrants and threatened them with job loss and deportation if they refused his advances, complained about him, or went to the police.
When workers nevertheless complained to management, they were met with anger and indifference, according to EEOC allegations. EEOC said the company's general manager, and the companies never undertook an internal investigation after the complaints, made no effort to reduce the manager's supervisorial powers, and refused to discipline him.
The same victims also sought help from the Colorado Civil Rights Division (CCRD), the local agency in charge of enforcing state anti-discrimination laws. CCRD conducted the initial investigation and made an administrative finding in favor of the two victims. When it was determined that there were additional victims, the case was transferred to EEOC, which did further investigation, issued its own cause determination, and ultimately filed a lawsuit.
In addition to requiring the company to pay monetary damages to the former employees, the consent decree settling the suit provides for a Spanish-speaking monitor for up to five years to oversee the decree's implementation, which includes substantial semi-annual training for managers on sexual harassment and the responsibilities of managers once a report of sexual harassment is made.
The monitor will also routinely interview employees to determine if any discrimination exists and review all employee complaints of discrimination or harassment. The decree also requires the company to translate its equal employment opportunity policies into Spanish and provide semi-annual reports to EEOC identifying complaints of retaliation or discrimination. The rehiring of the housekeeping manager is also expressly prohibited.
---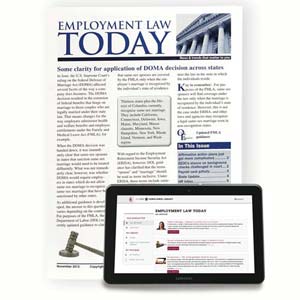 J. J. Keller's Employment Law Today newsletter explains why you need to care, what you need to do and how your business could be affected by HR industry news.
---
J. J. Keller's FREE HRClicks™ email newsletter brings quick-read human resources-related news right to your email inbox.