Paper manufacturer to pay $180K in disability discrimination lawsuit
Posted February 1, 2016
A global paper manufacturer headquartered in Pennsylvania will pay $180,000 and provide significant equitable relief to settle a federal disability discrimination lawsuit, the U.S. Equal Employment Opportunity Commission (EEOC) announced on January 26.
EEOC charged that the company required all individuals who applied for or worked in positions involving operation of forklifts or similar motorized industrial equipment to undergo a medical examination and pass a U.S. Department of Transportation (DOT) physical qualification standard for the operation of commercial motor vehicles. Federal law does not require drivers of forklifts or similar equipment to pass the DOT standards for commercial motor vehicles. According to the suit, the company nonetheless applied the DOT standards in a manner that screened out qualified individuals with disabilities.
EEOC further maintained that the company failed to conduct individualized assessments of applicants' and employees' ability to operate the equipment at issue or to determine whether a reasonable accommodation would enable them to do so. EEOC said that the company rescinded job offers to two qualified applicants with disabilities in violation of the Americans with Disabilities Act of 1990 (ADA).
In addition to the $180,000 in monetary relief to the two applicants, the three-year consent decree resolving the lawsuit enjoins the company from violating the ADA in the future. Pursuant to the decree's requirements, the company must revise its qualification standard to ensure that it is job-related and consistent with business necessity and includes an individualized assessment of a candidate's ability to do the job, with or without reasonable accommodation. The company will also post a notice about the settlement at all of its production facilities.
---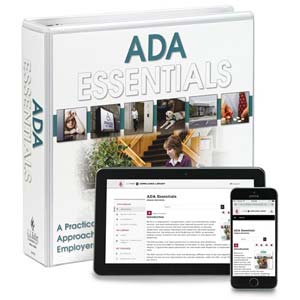 J. J. Keller's ADA Essentials Manual reviews Americans with Disabilities Act (ADA) guidelines and provides plain-English explanations to help you stay in compliance.
---
J. J. Keller's FREE HRClicks™ email newsletter brings quick-read human resources-related news right to your email inbox.