Free Whitepaper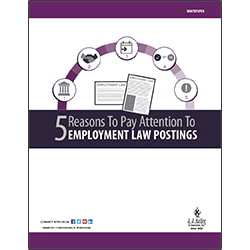 5 Reasons To Pay Attention To Employment Law Postings
Staying on top of required state and federal employment law postings is not something to neglect. Employers who do not meet posting requirements risk incurring significant fines.
This whitepaper covers 5 topics:
Federal agency interest
Good-faith efforts
Keeping up with posting changes
Determining which postings apply
Mandatory vs. minor changes
Fill out the form to download your FREE Employment Law Postings whitepaper.