Free Whitepaper
How OSHA's Confined Spaces in Construction Affects Non-Construction Companies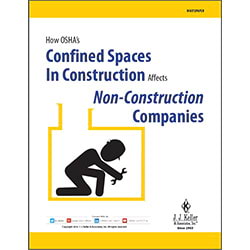 OSHA's Confined Spaces in Construction Standard (29 CFR 1926 Subpart AA) applies to ANY company with employees who are engaged in "construction activities" at a worksite with one or more permit-required confined spaces.
Bottom line: whether you work for a transport company, a manufacturer or a construction company, there's a good chance your company could be affected.
It's important to know when, why and how to apply this rule to help you stay in compliance and avoid fines.
This free whitepaper covers the basics of the new rule, including:
Confined space vs. permit-required confined space
Overview of the new construction standard
Key differences between the general industry & construction standards
Required training
And more
Fill out the form to download your FREE Confined Spaces whitepaper.