Free Whitepaper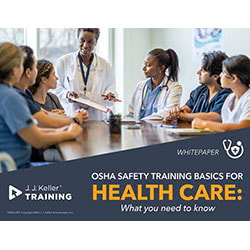 OSHA Safety Training Basics for Health Care: What You Need to Know
Workers in the healthcare industry face serious hazards on the job, which can make a hospital or health clinic even more dangerous than a construction site. Those working in these settings – including medical staff, maintenance workers, housekeeping, and many other types of employees – must be aware of these hazards and properly equipped to handle them.
Safety training, as required by OSHA, is one of the most effective ways to protect a healthcare facility and those who work there. Written by a J. J. Keller Expert, this comprehensive whitepaper answers key questions employers might have, such as:
Who is considered part of the healthcare industry?
What training is required?
What unique training challenges exist in the healthcare industry?
What does OSHA expect in a training program?
And more
Fill out the form to download your FREE whitepaper - OSHA Safety Training Basics for Health Care: What You Need to Know.