Rely on J. J. Keller for
Canadian Mandate Compliance
Trusted by fleets to manage over 300,000 drivers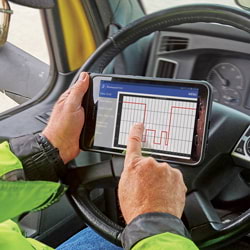 Prepare for Canada's mandate with the J. J. Keller ELD Quick Comply Program. It includes...
J. J. KELLER® ELDs:
Canadian hours-of-service
Border-crossing & Personal Use, and team driving features
Quick installation
Over-the-air technical and regulatory updates (no hardware swapout)
ENCOMPASS® Fleet Management System — FREE FOR 60 DAYS!
100% log auditing
Powerful reporting for violations
Complimentary paperless driver & vehicle recordkeeping
Expert guidance
IMPLEMENTATION SUPPORT — FREE!
2 hours of implementation assistance
24/7 driver support
Best-in-class technical support
The Canadian ELD Mandate deadline is January 1, 2023. Fill out the form to talk with a compliance specialist about how J. J. Keller can help you comply with the mandate. Or call 855.693.5338 to speak with someone now.