Free Webcast Download
Open for Business: Operating Safely After the Coronavirus Lockdown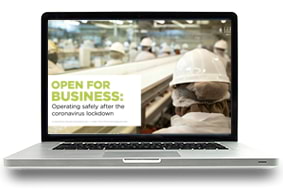 Since every workplace is unique, no single plan could fit every business. However, all plans follow a similar framework, and employers should understand what options are available to place within that framework. Questions employers may need to address could include:
How long should employees continue wearing masks?
What measures could protect workers beyond distancing and barriers?
What surfaces require cleaning or disinfecting, and how often?
Each employer must answer these (and many other) questions based on their particular circumstances. This webcast — recorded on May 26, 2020 — is intended to help employers make those decisions for themselves.
Fill out the form and click submit to download the webcast.