Free Compliance Brief & Service Quote
Coronavirus and Your Fleet's
Pandemic Plan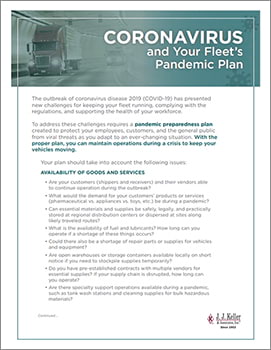 The outbreak of coronavirus disease 2019 (COVID-19) has presented new challenges for keeping your fleet running, complying with the regulations, and supporting the health of your workforce.
This 2-page brief details how to create a pandemic preparedness plan to maintain operations during a crisis.
Fill out the form to download your free Coronavirus and Your Fleet's Pandemic Plan Compliance Brief and learn how the J. J. Keller® DOT Compliance & Safety Program Management Service can help you build a plan for managing risk, improving DOT compliance, and implementing best practices.