Free Webcast Download
Preparing for Pandemics: What Businesses Need to Know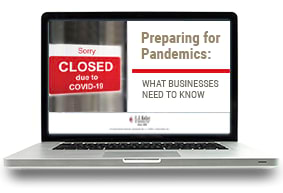 The COVID-19 pandemic has taught us to expect the unexpected. But, to do that requires a concerted effort by many members of an organization to create a strong, yet flexible plan.
This webcast — recorded on April 23, 2020 — will cover tips for revising or creating your plan, including:
Communication
Partial/complete shutdown planning
Returning to work after weathering the storm
Safety training for workers
Telecommuting
Recognizing and preventing cabin fever
Fill out the form and click submit to download the webcast.