Free Webcast Download
Families First Coronavirus Response Act (FFCRA)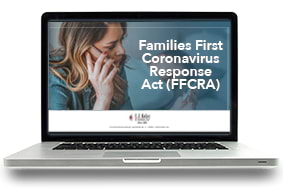 On March 18, 2020, the federal Families First Coronavirus Response Act (FFCRA) was signed into law in response to a growing outbreak of the coronavirus. As a result of the outbreak, employers were faced with unprecedented changes, in part because some employees could not go into work due to parenting demands, quarantine or stay-at-home orders, or as a preventive measure regarding the disease. Therefore, parts of the FFCRA pertain to employers, particularly relating to employee leave.
This webcast — recorded on April 2, 2020 — will cover what employers need to know about the FFCRA, including:
Which Employers are covered?
When are the provisions effective?
Which employees are eligible for leave?
How much leave do employees get?
How much are employees paid while on leave?
Fill out the form and click submit to download the webcast.