Free Webcast Download
Coronavirus Posting Compliance: New requirements and best practices for remote employees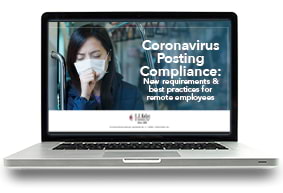 The Families First Coronavirus Response Act calls for employers to display an Emergency Paid Sick Leave Act posting.

In this webcast — recorded on March 27, 2020 — we'll answer a number of frequently asked questions relating to the new poster and cover the posting details included in the act. In addition, as more employees are working from home, we'll talk about best practices for complying with posting requirements for your remote employees.
Fill out the form and click submit to download the webcast.