Free Webcast Download
COVID-19: An Employer's Response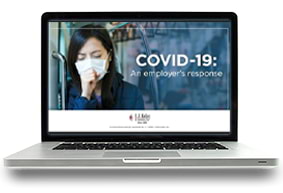 What would you do if a worker started exhibiting symptoms of acute respiratory illness while at work? Would they know what to do if they experienced these symptoms before coming into work? When should they be allowed to return to work? Do you have to pay them?
These are just some of the questions employers are trying to answer while dealing with the ever-evolving COVID-19 situation. This webcast — recorded on March 19, 2020 — looks at how the various laws apply, as well as considerations beyond the laws.
Fill out the form and click submit to download the webcast.