Prepare for the Mandatory 2019 AOBRD Phaseout
Your Strategy for Meeting the Final ELog Deadline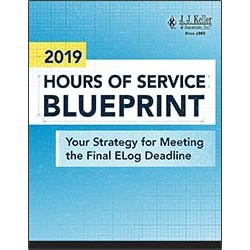 In the months since the ELD mandate went into effect, it became clear that during roadside inspections, carriers, drivers and enforcement officers were often uncertain whether a truck was using an Electronic Logging Device (ELD) or Automatic On-Board Recording Device (AOBRD).
Many drivers referred to their devices generically as "ELDs" while actually using AOBRDs.
Whether you are moving to ELDs from an ineffective ELD or an AOBRD that will soon be non-compliant, the free 2019 HOS Blueprint guide will help you ensure full compliance by December 16, 2019. It will help you navigate the complex ELD requirements, from selecting a compliant device to completing training and follow-up.
Fill out the form to request your free 2019 Hours of Service Blueprint. It will begin shipping as soon as it's available.