Free PPE Whitepaper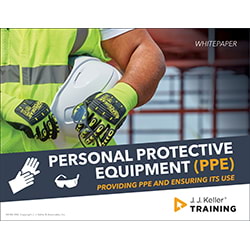 Personal Protective Equipment (PPE): Providing PPE and ensuring its use
PPE is worn to minimize workers' exposures to serious workplace hazards that can cause injuries and illnesses. And, your PPE program helps ensure your employees get the right equipment and use it properly.
This free 13-page whitepaper offers info to help you:
Assess the hazards
Identify control methods
Pay for required PPE
Select the right PPE for the job
Ensure PPE fits comfortably
Conduct training
Enforce PPE safety rules
Protect temporary workers
Fill out the form to download your FREE whitepaper - Personal Protective Equipment (PPE): Providing PPE and ensuring its use.